Blog
Leisure
Winter on Cape Cod: 5 Magical Experiences to Enjoy during the Holidays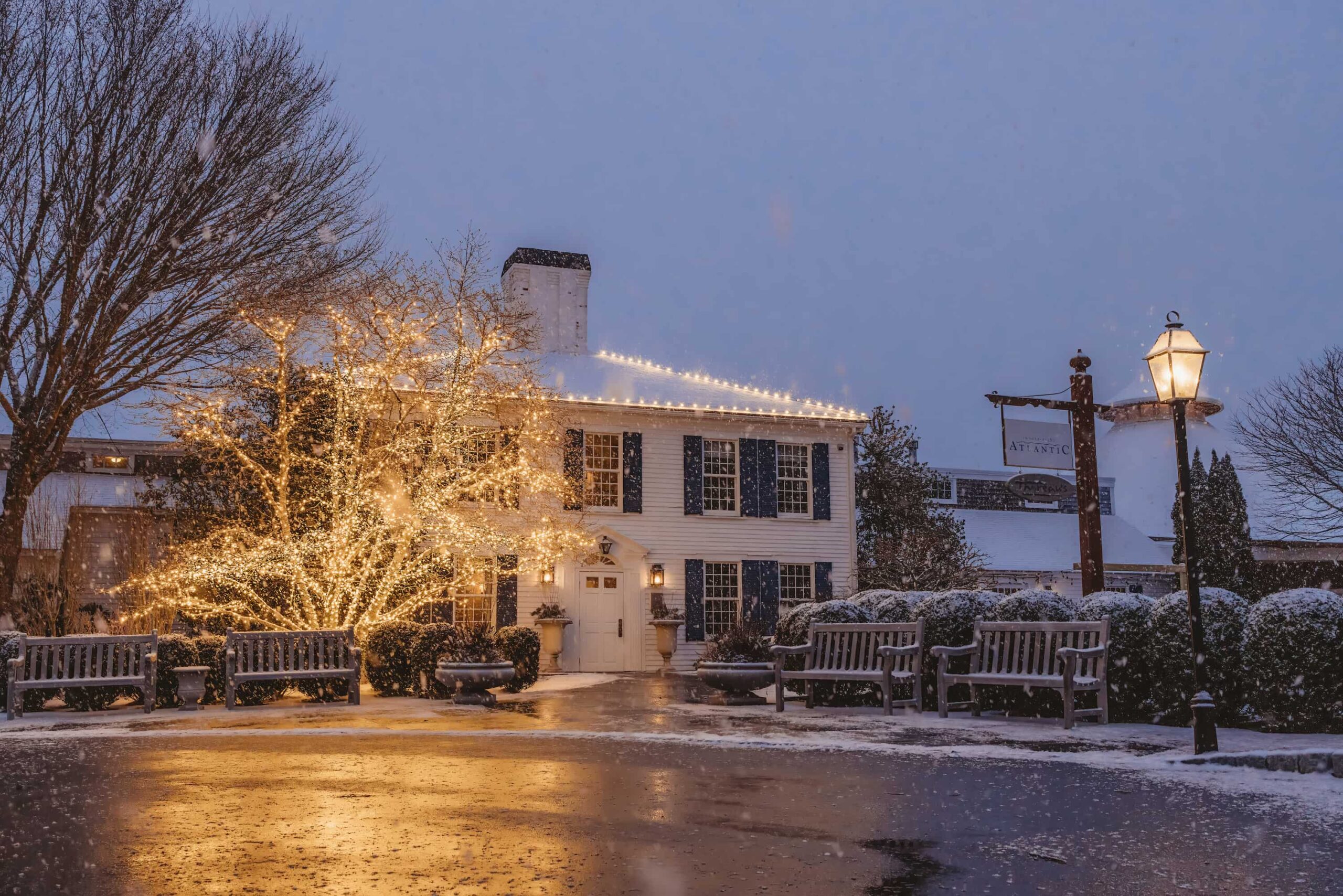 The holiday season on Cape Cod is a magical time filled with enchanting experiences that will make your heart swell with festive cheer. And this year, there's a special reason to celebrate because Wequassett Resort has opened its doors during the winter for the very first time. Nestled amidst the stunning landscape of Cape Cod, Wequassett Resort offers the perfect starting point for exploring these memorable holiday experiences. Here are five must-see holiday events that will make your Cape Cod holiday merry and bright.
1. Heritage Gardens Gardens Aglow: A Twinkling Wonderland
Every year, the Heritage Museums & Gardens in Sandwich transform into a breathtaking winter wonderland known as "Gardens Aglow." As you stroll through the meticulously decorated gardens illuminated by thousands of twinkling lights, you'll feel like you've stepped into a fairy tale. The vibrant colors and whimsical displays will leave you awe-inspired and ready to embrace the holiday spirit. This family-friendly event is a perfect way to kick off your holiday adventure on Cape Cod.
2. Polar Express – Cape Cod Rail Trail: A Journey to the North Pole
All aboard the Polar Express! The Cape Cod Rail Trail becomes a magical train ride to the North Pole during the holiday season. Hop on the vintage-style train at Buzzards Bay, and enjoy hot cocoa, cookies, and a live reading of the beloved Polar Express story. As you make your way to the "North Pole," Santa himself will greet you with a special gift for each passenger. It's an enchanting experience that will make you believe in the magic of Christmas all over again.
3. Edaville Christmas Market: A Shopper's Paradise
For those seeking unique gifts and holiday treats, the Edaville Christmas Market in Carver is a must-visit. This charming market boasts a delightful array of artisanal goods, handcrafted decorations, and delectable holiday treats. You'll find the perfect presents for your loved ones and maybe even a little something special for yourself. With festive music and a warm, inviting atmosphere, it's the ideal place to get into the holiday shopping spirit.
4. Town Strolls – Chatham, Nantucket, and Harwich: Picture-Perfect Charm
Cape Cod's picturesque towns come alive during the holiday season, and there's no better way to soak in the festive atmosphere than by taking a leisurely stroll. Chatham, with its charming Main Street adorned with twinkling lights, exudes a cozy holiday vibe. Nantucket, accessible by ferry, offers a quintessential New England experience with cobblestone streets and historic homes draped in garlands. Harwich embraces its maritime heritage with nautical-themed decorations, making it a unique and beautiful holiday destination.
5. Winter Weekends at Wequassett: Magic & Luxury on Pleasant Bay
After a day of exploring the enchanting holiday attractions of Cape Cod, return to the comfort and luxury of Wequassett Resort. Starting with a blockbuster tree-lighting event on November 30 and culminating in a grand New Year's Eve gala, Mrs. Claus is bringing new traditions, culinary creations, and classic Christmas magic to warm hearts and light up smiles. From elegant high teas and hot cocoa-fueled cookie decorating parties, to Christmas shopping, Brunch with Santa, and cozy staycations overlooking Pleasant Bay, Mrs. Claus is making our to-do list and checking it twice to ensure this Cape Cod Christmas at Wequassett is much more than nice.
Book Your Holiday Getaway at Wequassett Resort
Plan your holiday escape to Wequassett Resort today and discover why Cape Cod is the perfect destination for a magical and memorable holiday season. Book now and experience the joy, wonder, and warmth of the holidays on Cape Cod like never before. Make this year's holiday season truly special with Wequassett as your home away from home.