Blog
Leisure
10 Golf Courses for your Cape Cod Vacation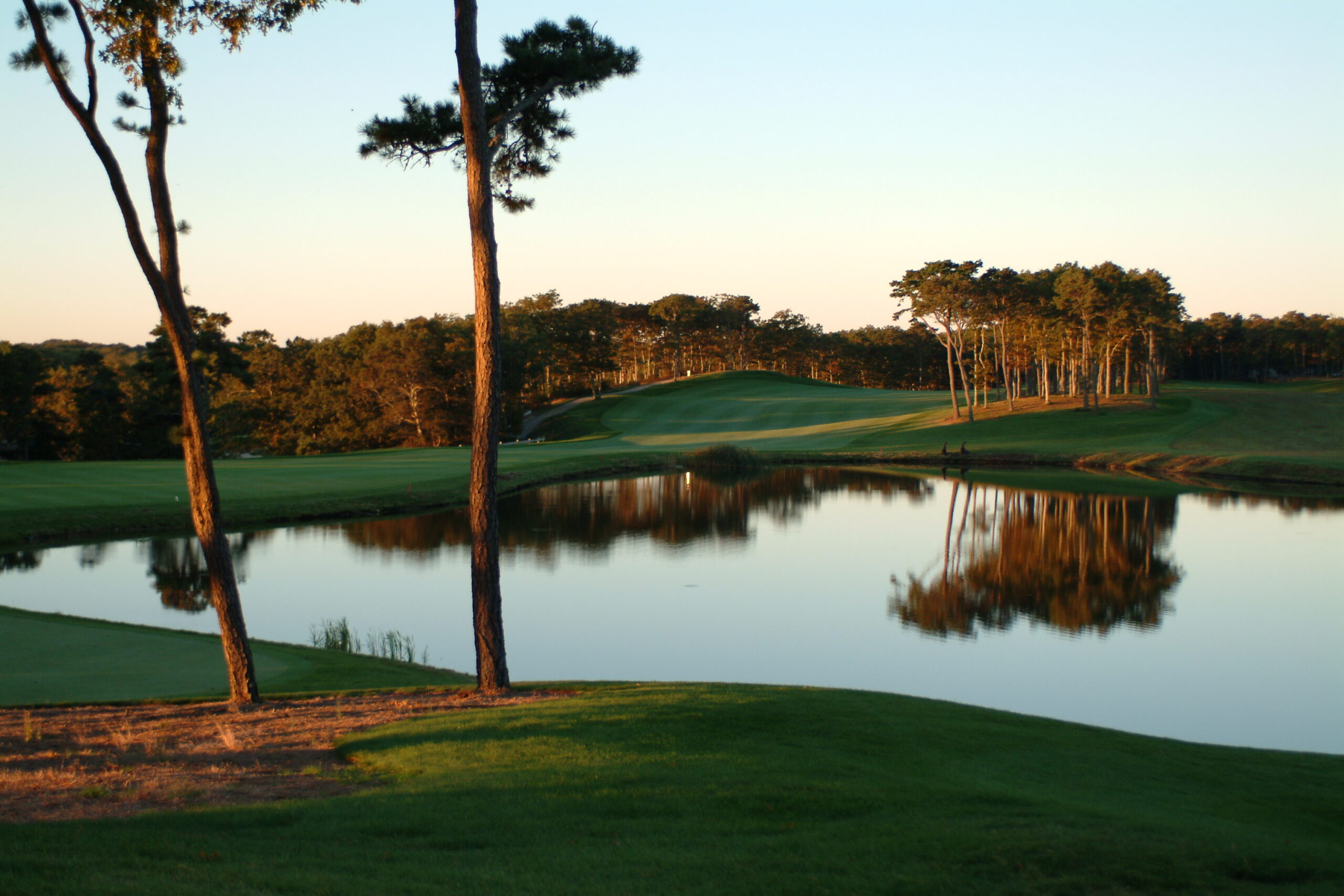 Of all of the golf courses in Massachusetts, why do avid golfers choose to tee up on Cape Cod? Any way you slice it, you can't beat the unmistakable beauty and captivating layouts offered by one of the country's most popular golf destinations. Not to mention the more moderate climate than other parts of the Northeast, which make it possible to play Cape Cod golf year-round. In fact, fall has been touted as "the Cape's quietly superior season for golf" by Link Magazine.
Ready to hit the links on your next Cape Cod family vacation but having trouble choosing from the over three dozen golf courses on "The Golf Coast?" Check out our helpful insider's guide to a few of the best of Cape Cod private golf courses and public golf courses.
The Perfect Destination to Stay-and-Play
Cape Cod National Golf Club (CCN) – Brewster
As a registered guest of Wequassett Resort, you'll have exclusive access to one of the most prestigious clubs in the nation. From its smooth, fast fairways and greens to its delightfully varied tee-shot landing areas, this par 72 championship course is a must-play for both casual and competitive golfers."A shrewd Cape vacationer would parlay a one-night (or—by all means—longer) stay at the outstanding Wequassett Inn into golf rights at the otherwise private Cape Cod National Golf Club." –Links MagazineRare among clubs on the Cape, CCN is also proud to provide an outstanding practice facility. The facility includes a full driving range and two practice greens.
No Two Holes the Same
Cranberry Valley Golf Course – Harwich
Recently renovated, this public course offers a championship layout that winds through cranberry bogs and features well-designed holes to challenge players of every ability. It was rated 'Excellent' by Zagat Golf Guide and given '4 Stars' by Golf Digest.
Play Two Rounds in One Day
Captain's Course – Brewster
Imagine playing two rounds of golf on two different courses in one day without ever having to get into your car? Choose from two 18-hole Bentgrass championship courses at one location. While the Port Course is more challenging, both courses feature a classic Cape Cod feel, with tree-lined fairways and relatively flat terrain.
One of Golf World's Quaintest Antiques
Highland Links – North Truro
Founded in 1892, Highland Links is Cape Cod's oldest golf course and one of America's golf treasures. In the Scottish genuine links tradition, the course is defined by deep natural rough, Scotch broom, heath, and non-irrigated open fairways. Play nine holes perched high along windswept bluffs overlooking the Atlantic and iconic Cape Cod Light.
Bring your "A" Target Game
Dennis Pines Golf Course – Village of East Dennis
Situated on 170 acres of pine forest, Dennis Pines is a par 72, 7,000-yard championship golf course. Noted as one of the toughest layouts in the area due to its tree-lined corridors, multiple water hazards, and a twelfth hold recognized as one of the most difficult par fives anywhere.
Difficult Yet Friendly Place to Practice Your Swing
Chatham Seaside Links – Chatham
Practice your swing at this reasonably priced nine-hole, par 34 links course featuring 2,600 yards of golf from the longest tees. Note there are no official tee times, so while you wait, stop by the pro shop where the staff can offer tips and tricks for playing your best round.
 A Mark Mungeam Gem
Olde Barnstable Fairgrounds Golf Club – Marston Mills
With its thick brush and deceptive approaches and large undulating greens, this walker-friendly layout is a "true test of championship caliber."
Unique Isolated Holes with Majestic Views
Sandwich Hollows Golf Club – East Sandwich
With hundreds of acres of conservation area surrounding the course, playing at Sandwich Hollows evokes a sense of quite solitude, making an enjoyable and relaxing golf experience.
Go Four Miles out to Sea
Farm Neck Golf Club – Oak Bluffs
The only 18-holer on Martha's Vineyard, this course boasts a striking variation of topography and vegetation along with its widespread reputation for championship-caliber golf. Its stunning overlooks along the ocean's edge make the short ferry ride well worth it.
 A Hole-in-One for the Whole Family
Cape Escape Miniature Golf – Orleans
Last but not least, enjoy family fun at this nautically-themed adventure golf facility. Putt through waterfalls and feed koi fish during 18 holes of award-winning min golf.
Now that you know about Wequassett's top 10 Massachusetts golf courses, isn't it time you made the rounds on Cape Cod? Whether you're looking for a classic nine-hole dating back to the 1890s or a prestigious par 72 course, let us help design your ideal golf getaway. Contact us at (508) 432-5400.